Introduction to Scale Computing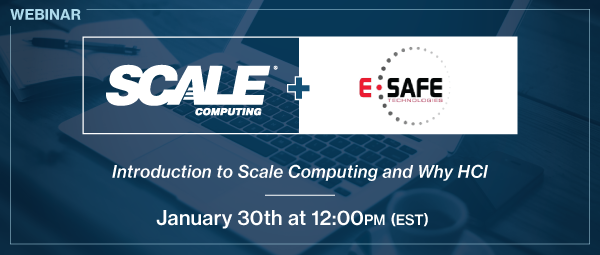 Hyperconvergence is the result of re-thinking IT infrastructure to eliminate unnecessary complexity and costs. HC3 from Scale Computing is the most advanced hyperconverged infrastructure solution because it has redefined how storage is designed for virtualization and focuses on ease of use.
Join Scale Computing and E-Safe Technologies on Thursday, January 30th at 12:00 PM (EST) for a one-time only webinar where experts from Scale Computing will discuss how HC3 from Scale Computing can:
simplify application deliver
reduce IT infrastructure cost
scale out as needed
provide highly availability and next-level disaster recovery
eliminate Network Switching with HC3 Edge Fabric
migrate Windows 10 with VDI
Don't Miss Out - Everyone who attends this webinar will receive 10% off of their first purchase!